Hey everyone, welcome back to my Red Hood, this time for a review of Spider-Man Noir. I've been talking about reviewing this all week and I don't wanna prolong this review any longer so let's get to it.
And for those who haven't please go check out Nagash's Spider-Man Noir interpretation over at his super sweet blog that you can get to by clicking
this
.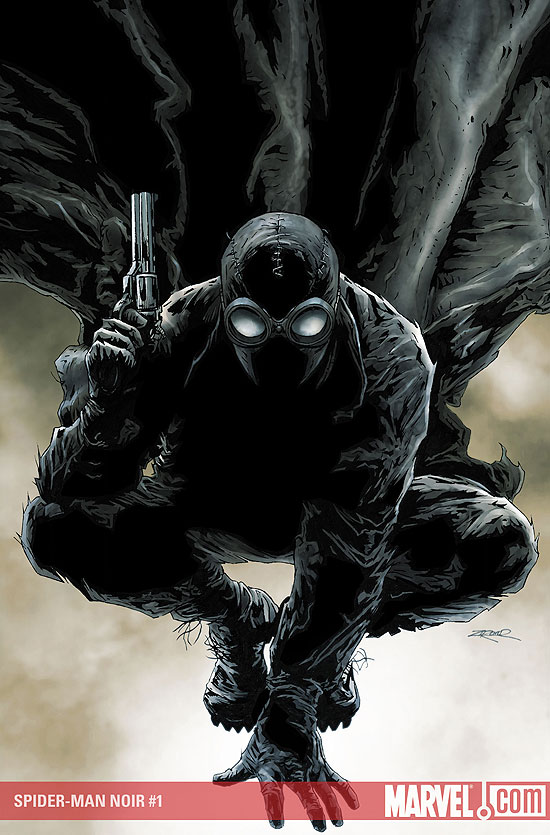 Spider-Man Noir takes place in 1933, during the Great Depression. Our story starts with the editor of the Daily Bugle, J. Jonah Jameson found murdered, standing over him holding a gun is... Spider-Man? And that's how we start off with the roller coaster of twists and turns. Long time Spidey fans will appreciate seeing the way their favorite characters were tweaked to fit into this era. Whether it's May Parker, the soapbox preaching Liberal, Felicia Hardy, the owner of The Black Cat lounge, or Norman "The Goblin" Osborn, a big time mob boss, a lot of classic Spider-Man characters find their niche in Spider-Man Noir.
The scene where Peter inevitably gets bit by the spider is amazing. No other word can describe it. I'm gonna post a scan of it at the bottom of the review (X-Man Style!) so you can see, because that was a truly awesome scene. I really loved the allure of mystery that was shown during this comic as well. Never knowing who you can and can't trust is always something that I love when I'm reading a comic and this was one of those comics, the second you let your guard down you get surprised by someone's actions, to me that's the mark of an exciting comic. Little things were important as well, as whenever Peter got his Spider Sense set off, instead of the little squiggly lines by his head, he had the outline of a red spider, which was a very awesome visual.
The explanation of Spider-Man's rogue gallery was well done as well. The Goblin, aka Norman Osborn has a bunch of guys working for him, namely Kraven, The Vulture and some more of Spidey's well known villains. The explanation is that they were mostly circus folk, which explains Kraven's abilities and strength, The Vulture's sharp teeth and predator like behavior. Just the fact they were able to make these guys work in a real setting is a commendable effort. The artwork is very gritty, I didn't like it when I first started but by the time I finished the first issue it'd grown on me and it truly does fit the Noir tone of the comic.
As for what I thought? I loved this comic, I can honestly say it was one of the best Spider-Man stories I've ever read, and I'd recommend it to anyone to check it out. It easily gets a
10/10
from me, and I'm definitely hoping they continue this some day and have more Spider-Man Noir stories. There's nothing else I can say about it so I'll leave you with the previously mentioned scan. (You should be able to click it and give it a read.)
Also, it's that time of the week so don't forget to vote on the new Weekly poll on the right. The weeks question is, which dead DC Character do you wish had been resurrected in Brightest Day? Your choices are the former Aqualad and Tempest, Garth, Bart Allen's arch-rival, Inertia, The Former Question, Vic Sage, The recently deceased Prometheus, and former Blue Beetle, Ted Kord. Also, for those curious of last week's results to the question "Who would you like to see become the main character of their Legacy?"
4th Place with 0% - Connor Hawke/Queen, looks like you aren't eveyone's favorite Emerald Archer.
Tied for 2nd Place with 27.3% each - Kyle Rayner and Bart Allen, even the fastest man alive couldn't out run the former Ion.
And your winner with 45.5% of the vote - Dick Grayson. Looks like he does deserve the Cowl after all.
Well thanks for voting everyone, I look forward to seeing how this week's poll turns out. Until next time, Stay Classy, because You've just been Gobsmacked!
- Jason Todd