Ladies and Gentlemen, Boys and Girls, Children of all ages, it's time once again for that weekly cavalcade of comic reviews and rantings, brought to you by one half of the blogging tagteam champions of the woooooorld, yours truly, Jason Todd. So, here we are, officially apart of the DCnU, everything's changed, some for the better, some possibly for the worse, only time will tell. FYI, I bumped Amazing Spider-MAn #668 to next week so I could get this review up asap for all you Justice League fans. So since time is of the essence, let's get to what may be one of the most anticipated comic books of the year, but before we get to JLA, let's tie up a few loose ends from last week's review.
Superman Beyond #0
We start things off with Superman barely being able to keep the peace on an alien planet where a battle has broken out, but he's able to stop the planet from being invaded by the attackers. After helping the aliens, Superman decides it may be time to return home for the first time in a year, since helping Batman Beyond, Terry McGinnis, defeat Lex Luthor in the Superman/Batman Annual #4. We then see the Justice League trying to get Batman to come help out with Metropolis but he says he's busy enough with Gotham. We then see a prisoner named Mangler, and after his wife tells him she's not bringing their daughter to see him in prison anymore, and he seems defeated since he's been trying to get good behavior points to get out early, but she sticks by her guns and walks out on him. Later on, during a bit of a prison scuffle, a guard shoots some liquid that falls on the Mangler and of course makes him into a powerful villain. We then see Clark Kent on Earth, planting flowers at his parents and Lois' graves before meeting with a very old Jimmy Olsen who offers him a job as a reporter now that Jimmy is a media mogul. Meanwhile, Mangler uses his new powers to beat the hell of the joke that is the Justice League, with his Sandman-like powers. Superman makes the save but it doesn't take long until the Man of Steel is taking a beating due to his old age and the fact he's slowly grown weaker since his days on top. Once he momentarily despises of Supes, Mangler goes to see his daughter, but upon seeing what her dad has become she screams, obviously afraid, which breaks Mangler's heart. He then tells Superman to do his job and protect her from monsters like him, or he's going to destroy Metropolis. Superman throws everything at him but runs out of options so uses his speed to make a tornado and suck Mangler into space to knock him out, but once up there, with his last breaths Mangler manages to turn his arm into a spike and stick it through Superman. Well damn... as Supes realizes he doesn't have much time left, he selflessly grabs Mangler and takes him back to Earth so he doesn't suffocate in space, and takes the brunt of the fall as well. As Superman slowly dies, Mangler repeatedly asks why he would save him after he killed Superman, Barda checks on him and it appears Superman is still alive as his wounds slowly heal. They ask him to join the Justice League and he accepts, and the issue ends as we see an old Clark and Bruce share a moment like only Superman and Batman can. This was a good issue, but to be honest I think it would've been more impactful is they killed off Supes here. I mean with the reboot it's not like it matters, and Supes saving someone that killed him is like the epitome of something he'd do, which could lead to Mangler becoming a good guy to try to make that up to Superman and society. But maybe they wanted him around for more Batman Beyond stories. Either way, it was a fine issue that I had no problems with, I'd give it a
6/10
.
Superman: Maybe tomorrow has finally arrived for the so-called Man of Tomorrow. Maybe I'm just too
old
to play hero.
Kick-Ass 2 #3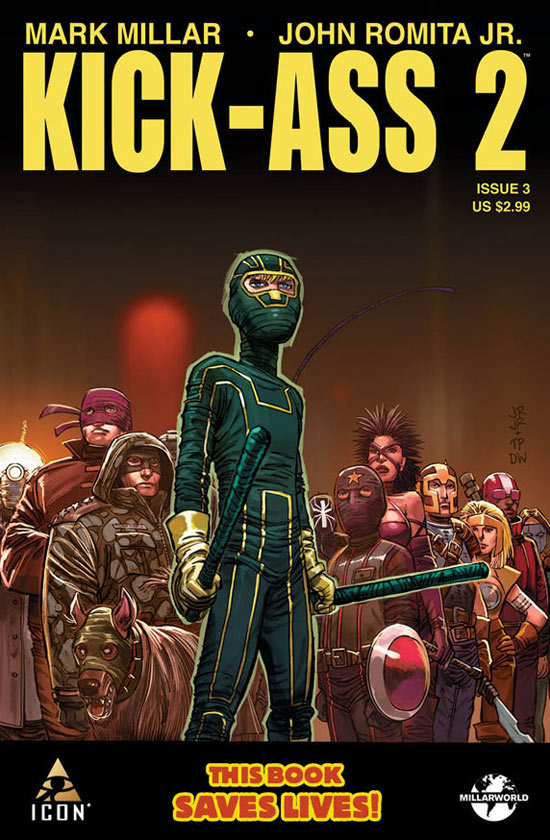 We start things off with Kick-Ass and his ragtag team of jabroni's questioning the criminal they caught, asking him where the girls he has working as prostitutes are. He says upstairs, so Kick-Ass goes to investigate wit two other heroes. They free the girls and give the the fifty-grand the criminals had so they can go start new lives. Afterwards, the heroes leave and let Kick-Ass in on the tidbit that they carry empty guns to scare the criminals, which Kick-Ass thinks is pretty awesome. We also see they don't just fight crime, but these heroes also pass out missing persons flyers, volunteer at soup kitchens, and of course influenced more people to become street heroes. And eventually, Kick-Ass decided to have his friend Todd join since he was the odd man out, but the person Dave really wants is Hit-Girl, but she continues to turn him down since she made a promise she was done fighting crime. Dave doesn't let up but when Mindy walks outside and see's Marcus, she runs to the car, as Marcus stares at Dave, clearly aware that he's Kick-Ass. When Dave arrives home he walks into his room to find his dad holding his Kick-Ass costume. His dad says he was worried because he thought Dave was on drugs but this is worse, and he's found his boots, sticks and the newspaper clippings he's saved. Dave says he's a hero and he's proud of what he's done, before snatching his costume from his dad and running out of the door. Over at the Justice Forever Headquarters, Colonel Stars is attacked and shot through the stomach by a huge woman named Mother Russia, the new bodyguard of the Red Mist. He orders her and his guards to tear the base apart and to leave a message for the other heroes. We then see the Colonel dead, duct-taped to a chair with his head gone and his dogs Sofia's head in place of his (gruesome) and the words "The Red Mist is Dead, Long live The Motherucker." The issue ends as the news of the dead hero found in a basement is seen by Mindy, which seems to incite the rage of the former Hit-Girl. Man this was a good issue, it started a bit slow but Dave's secret being found by his dad, the return of the former Red Mist and that gruesome scene made this a really good issue, I'd give it a
9/10
rating.
Marty: Those trunks are so tight I can make out individual pubic hairs.
Justice League #1
We start things off in the past, five years ago to be exact as we see Batman pursuing a criminal, while also dodging the GCPD. Batman manages to catch the person he's pursuing when suddenly the villain is blasted by a green firetruck, courtesy of Green Lantern Hal Jordan, who seems shocked that Batman is real. When the GCPD shoots at both GL and Bats, Hal throws up a shield, but while they focus on the GCPD, Bats and GL are attacked by the mystery villain. The villain blasts down a helicopter but Hal makes the save while informing Bats that he was sent there due to an extra-terrestrial sighting. Bats tells GL to go back to Coast City but he sticks around, and is shocked to learn Batman has no powers and is just a man in a bat costume. Batman somehow manages to take GL's ring and then returns it once he realizes it's the source of Lantern's power. The two start to get into a scuffle when Batman notices the alien planting a bomb. Hal tries to stop the alien but he yells "for Darkseid" before the alien explodes in the sewers of Gotham, as Hal protects himself and Batman with a box he constructs. Batman and GL then investigate the alleged bomb the alien left behind, and GL figures it may be connected to Superman since he's an alien, so the two go to confront the Man of Tomorrow. We then jump over to see Vic Stone playing football as he's apparently a highly scouted player, but when he scores a touchdown and looks in the crowd and see's his Dad isn't there he's pretty disappointed. Aww, poor Cyborg. Back with GL and Bats, they arrive in Metropolis right outside of where Superman is. Bats tells GL there was obviously a scuffle here and to take this tactfully but the ever cocky Hal Jordan decides he's going to go restrain Superman and question him, and half a second later he's flying across the sky from a red-blue-blur punch. The issue ends soon after with Superman staring at Batman asking what can he do. Well this issue kinda flew by, we didn't learn much... I mean literally. We saw Bats meet GL, we saw Bats meet Supes, we saw Hal get "one-punch!'d" by Superman and we saw Vic play football. It wasn't a bad issue but I expected more from this first issue since DC only dropped two issues this week, but on the plus side, Jim Lee's art was pretty damn good! I'll give this issue a
7.5/10
rating.
Green Lantern: You really want to pick a fight with someone who can create anything he can think of?
Batman: I'd be worried if I thought you could think.
And just like that, three comics have come and gone. Welcome to the DCnU, and the next month should be exciting with more DCnU comics, more Schism and Spider-Island from Marvel, and hopefully more Morning Glories and Invincible. Here's hoping you guys enjoyed this review and feel free to let me know what you guys think. But that's it for me, I'm your friendly neighborhood Blogger-Man, Jason Todd, signing off!
Next Week on Ratings and Rantings
Action Comics #1, Batgirl #1, Justice League International #1, Static Shock #1, Invincible #82, Morning Glories #12 and Amazing Spider-Man #668