Hey everyone, JT here with another weekly dose of comic content comments with my favorite and only weekly feature, Ratings and Rantings! This is another small week for me, as I only have five comics to review this week, but they're big ones. A few of my favorites like Batgirl, Gen Lost and Red Robin as well as what should hopefully tie up some loose ends of Shadowland. I also picked up that What If: Wolverine Father but due to leaving it over Falisha's and being too lazy to go pick it up, I decided I'll review it another time. So, enough of my introduction, let's get to the meat and potatoes of this post, the reviews!
Batgirl #16
We start off this issue of Batgirl with our heroine, Stephanie Brown as Batgirl, running from the police after finding out she apparently killed one of her fellow students, which is news to Steph. Batgirl tries to escape from the Gotham City Police Department, and with the help of Oracle, she finally does after a long arduous chase. Batgirl then finds herself face to face with Detective Nick Gage, who knows that Batgirl is innocent. The two talk about what's happened, and Detective Gage even pops Batgirl's recently dislocated shoulder back into place. When the cops close in, Nick buys her time as Batgirl gets away and heads home. The next day at school Steph finds out that her classroom enemy Jordanna is now an enemy of Batgirl's as well, as she does a protest against our Blonde Bat, claiming her grief due to a classmate being "killed by Batgirl" has affected her studies. Stephanie, not in the mood to argue about Batgirl's innocence just walks away. Later on, Babs tells Steph that the reason she was believed to have killed the student, because Gage found a bloody Batarang, was wrong because the blood had been added after the death of the student along with some radioactive isotopes. Upon further analysis Oracle figures out where the isotopes originated and tells Batgirl where. Batgirl goes to crash the party and subdues the robed bad guys that are trying to steal things from the abandoned building. Batgirl is then shocked as the GCPD show up, and Gage tells her that bthanks to a tape sent by Oracle, Batgirl's been exonerated by the evidence that she didn't kill that college student. The cops arrest the robed goons but they soon escape due to someone that Batgirl expects must be a Speedster. The issue ends soon after as we find out who is behind the "Order of the Scythe." This was a solid issue, nothing amazing but nothing bad either, just solid. I enjoyed it and loved the smart remarks by Wendy when we saw her, even if she still does talk to her dead brother. Anyway, I'll give this issue a
8/10
.
Batgirl: What's in the bag, Detective?
Det. Gage: Your Boomerang--
Batgirl: --Batarang.
Det. Gage: You realize that sounds more ridiculous, right?
Batgirl: Ridiculously
awesome
.
Shadowland: After the Fall One-Shot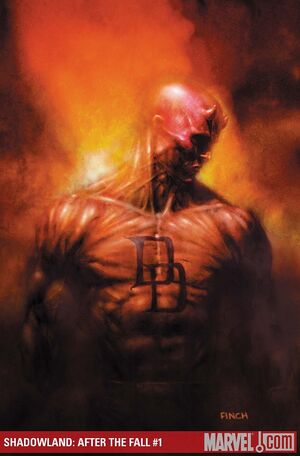 After the Fall starts off with us getting the inside scoop from our narrator, Ben Urich, discussing the impact Daredevil had on Hell's Kitchen and how he changed the city due to recent events. We then start to follow Detective Alex Kurtz, as he discusses how his Captain wants him to bring in Daredevil, even though he's retired. What? If I was retired.... getting paid after doing my job long enough to be done doing it, and someone called me and asked me to go take down someone that fights heroes and villains for a living.... why the hell would I do it?! Anyway, from there we see both the detective and the reporter looking for info on Daredevil, asking everyone from Spidey to Luke Cage to Iron Fist, and coming up with no answers. After coming up with nothing, both men go to meet with Foggy Nelson, and when all three are at the same place, they discuss Murdock and if he's contacted Foggy, and if he's even still alive. Ben finally goes home after Foggy kicks both he and Alex out, and finds a micro-cassette. He plays it and hears a message from Matt Murdock, Matt apologizes for screwing up, trying to change The Hand and everything else he did and says he doesn't know when he'll be back or if he'll be back. The message ends and a Sai flies through the player, destroying the tape as Elektra tells Ben he'd best forget about Matt's message, much like Matt requests when the message ends. Back with Kurtz, he witnesses a crime and tries to stop it but it's broken up by Black Panther for some reason who looks like The Insider in the Batman: Road Home comics. He tells Kurtz he's watching over Hell's Kitchen now. Well who the hell asked you to? Back at the Police Station, the Police Officers all want to talk to Kurtz and ask him to stop looking for Matt, citing how he's saved them and when he was arrested the crime rate skyrocketed. The issue ends soon after with Urich telling Foggy how his article will be on how Daredevil helped change Hell's Kitchen to a better place and was an inspiration before the events of Shadowland. Well, that was a waste of four dollars. Nothing happened... at all. We found out nothing, we don't know why T'Challa is in Hell's Kitchen or anything. It was just a waste of time, the only good thing was seeing how some officers stood up for Daredevil. Anyway, I guess this was okay for what it was, but it wasn't much. I'll give it a
3/10
.
Ben Urich: Hell's Kitchen isn't what it used to be. We've all seen it
changing
, recently changing for the better.
Red Robin #18
We get things kicked off with Timothy Drake, a.k.a. Red Robin in Russia thanks to the help of the former Anarky, Lonnie Machin. Tim is there to try to take down the villainous communication grid known only as the Unternet. Red Robin is soon joined by Mother Russia's former Teen Titan member, Red Star. Red Star is noticeably different, more hostile than we've seen him in the past, and even gives Tim a veiled threat when asking why Red Robin is there and tells him to tread lightly. Next we see Tim with Tam Fox, enjoying breakfast in their hotel room and discussing the plans for their meeting with Viktor Mikalek, and Red Robin's meeting with Mikalek, as he tries to find out if he's involved with the Unternet. When Tim and Tam meet with Mikalek, they convince the rich Russian mogul to invest in a Russian Neon Knights chapter and successfully hack into his computers with help from Lonnie. Just as the two are finishing up the meeting, a woman bursts through the window, guns-a-blazing. She tells Mikalek he will pay for his crimes and subdues his guards with rubber bullets. Tim determines he needs info from her and wants her to escape but Red Star shows up on the scene. Tim puts himself in the way, although making it look like a mistake, and the woman, known as Promise, uses Tim as a hostage to allow Red Star to let her escape. After changing into his Red Robin costume Tim goes after Promise, having secretly planted a tracer on her. When Tim arrives, Promise is taking a shower. And like the confused, non-sexually active horny seventeen year-old gentleman he is, he doesn't look and waits for her to finish, but she's aware he's there and blasts him with a bar of soap. Promise attacks Tim and he fights her off until he can tell her he didn't come for a fight. He offers to help her go after Mikalek if she has a good reason, and she explains that he hurt her brother, destroyed her home and various other reasons that make Mikalek look like a jackass. Red Robin and Promise's conversation is cut short as Red Star comes through a wall (Use a door jerk... who are you, the Kool-Aid Man?) and says that she's under arrest for being a terrorist. Red Robin stands between Promise and Red Star and Tam let's him know via comm link that Mikalek has been working with Calculator. Red Robin tells Red Star but he quickly refutes it by saying that Wayne Enterprises once worked with Lex Luthor to rebuild Gotham. Realizing he's in trouble, Red Robin hits a sneak attack on Red Star and tells Promise to run. Red Robin keeps avoiding attacks from Red Star and even boards his ship and tries to find something he can use against the big Russian Bruiser. The issue ends soon after with a very interesting ending for Red Robin, Tam Fox and Promise. This was another great issue, it seems like Red Robin keeps getting better and better under Fabian's writing. I love the character development in each issue, and I'm wondering what the deal is with the ending for this issue. It definitely has me hyped up for next months. I'll give this issue of Red Robin a
9/10
.
Red Robin: Now I'm even more intrigued than I was with the whole
shower
thing... Lynx, Scarab, Steph, Cass and now
this
.
(And Tam! Dayum, when did Tim become such a PLAYA?!)
JL Generation Lost #15
It's time for more Gen Lost, featuring in the spotlight a character that I've really taken a shine to lately, Captain Atom. We start off with a quick recap on Max Lord and how he controlled Superman and forced Wonder Woman's hand, which led to her snapping his neck like a twig. We see that Max learned since coming back to never underestimate Wonder Woman, as he damn well shouldn't. We then learn that Max has a problem of his own, because apparently no one else remembers who Wonder Woman is. Max has been tracking her but suddenly can't find the Amazonian Princess, and he of course has to see the irony in no one remembering him or the woman that killed him. I'd assume this is due to her new background and past as of late but that's just my guess. Max, clearly upset, orders the people at Cadmus labs to send someone or something after Wonder Woman and find her, because when he does find her, he promises to finish her off. Next up we see various news reports of how Captain Atom has caused destruction and murder in Chicago, even though that's not what actually happened. Turns out Captain Atom is back in his original time, now in the old J.L.I. headquarters with Rocket Red, Blue Beetle and Booster Gold. (Such colorful names...) He tells his teammates how each time he goes to the future everything is bleak and it always comes back to Max Lord, and him killing Wonder Woman is the common denominator so to speak, so he says to stop that he has to kill Max Lord. Booster tries to talk him out of it but Cap doesn't want to hear it, citing how now he's a monster in the eyes of civilians and fellow heroes, and how they can't convince anyone to help them now due to them thinking he's a murderer. Booster tells Captain Atom to grow up, surprising everyone, including me. Booster tells Atom in no uncertain terms that he's not gonna be allowed to kill Max, regardless of what Max has done to him. He says that as good guys they don't kill, they're going to catch Max, arrest him, throw him in a cell with power dampeners, and let him rot there, but first Booster is going to "beat the ever-loving sh*t out of him!" Atom finally agrees, but his and Gold's conversation is cut short when both Rocket Red and Blue Beetle ask who Wonder Woman is. Booster checks with Fire and Ice and they recall our favorite Amazonian, meaning only Booster, Atom, Fire, Ice and Max Lord currently remember who Wonder Woman is, but not even Skeets remembers who she is. The team decides they need to find Wonder Woman and see what's going on but the team is soon ambushed by... The Creature Commandos? The issue ends soon after with one of our JLI'ers down for the count and not looking too good. This was another solid issue of one of the best damn comics out today. The mystery of wondering where Wonder Woman is (no pun intended), the anger shown by Captain Atom, as well as more character development on how much Booster Gold has evolved over the last six years and I couldn't be happier with this issue. The team attacking was kinda bleh, only because I've never heard of them but that's my fault I guess. Anyway, this was another fine issue of a great comic, I'll give it a
9/10
.
Max Lord: WONDER! WOMAN! She's--She's a hero! The Amazon Warrior Princess, The--WONDER WOMAN, You Jackasses! None of you have
ever
heard of her?!
Well that's all for me this week guys, I'll be back with more Ratings and Rantings next week though. Below are the results for the poll from last week, and be sure to vote on the newest poll for this week. Until next time, I'm your friendly neighborhood Blogger-Man, Jason Todd.
Last Week's poll asked "Who do you think should have won Battle for The Cowl if Dick Grayson didn't?"
Last place with 0% - Stephanie Brown, she's best as Batgirl anyway.
Third place with 7.7% - Damian Wayne, the young Robin wasn't ready for the Cowl
Second Place with 30.8% - Tim Drake, the favorite in my opinion for this poll falls short.
Winner
with 61.5% - Jason Todd, I gotta say this shocked the hell outta me.
Next Week on Ratings and Rantings
Batman: Orphans #2 of 2, Birds of Prey #7, Brightest Day #16, Green Lantern #60, Amazing Spider-Man #650, Deadpool MAX #3