Welcome everyone, friends, enemies, and troglodytes to the first annual "Red Hood Awards!" Tonight, we see which of our nominees will walk away with a coveted Hoody award. We've got a slew of categories with a ton of nominees. I should note I am only counting comics for awards that I've read at least half the issues, excluding Outsiders for example since I've only read like four issues of the current series. Also, I'm only counting things that happened in 2010, so if a Mini-series came out in 2009, I'd only count it if at least three of it's issues came out in 2010. So, the ground rules are set, the readers are reading, and the host is AMAZING as always, let's take a look at the best and worst of 2010! (Disclaimer: The following are the opinions of myself and only myself, if you disagree, please feel free to write your congressman or congresswoman and let them know what an idiot, you truly are.)
Hero of the Year - Spider-Man
2010 was the year of Spider-Man. I know that seems odd but honestly, in a year with Bruce Wayne trying to return back to his current time, Superman walking around the world, Wonder Woman being retconned and turned into a legging-wearing-teenager (?) and so many more weird things, I think it's obvious why I chose Spidey. Spider-Man had an amazing year, no pun intended. Don't believe me? Go read "Shed", "Grim Hunt", "One Moment In Time", and the current story arc "Big Time." In a year where Spider-Man faces his greatest threats, hits rock bottom, and ends the year with one big comeback after another, how can one deny that Peter Parker owned 2010? Oh, also he's hooked up with his new girlfriend Carlie Parker, Black Cat, and his former roommate's sister, Michele Gonzales. So that's why Peter Parker is the hero of 2010, this year alone he's been promoted from living with his aunt to having an awesome job as a scientist, he's actually enjoying life, and his comics have been some of the best of the year. 2010 is the year of The Amazing Spider-Man.
Runner-Ups: Batman (Grayson), Batgirl, and Green Lantern (Hal Jordan)
Villain of The Year - Maxwell Lord
Has anyone hit 2010 as hard as Max Lord? Lex Luthor had a hell of a year, but has he really done anything? Deathstroke had a hell of a year but his biggest accomplishment was killing Ryan Choi with the help of five other people. But Maxwell Lord, a man who didn't return from the dead until March of this year has already made this a year to remember. Maxwell Lord, mainly remembered for brutally murdering Ted Kord and getting his neck snapped by Wonder Woman, is now barely remembered. This year Max Lord has beaten his former buddy, Booster Gold, almost to death with a pipe. He's made everyone except for choice individuals forget he's ever existed, he's made an evil clone of Power Girl by the name of Divine, and of course, he's brutally killed Magog as well as thousands of innocents, then made everyone believe it was Captain Atom. No one has shown more evil while showing such level-headedness and ability to plan as well as Max Lord. Max has clearly become this year's version of 2009's Norman Osborn. Like they said in the first issue of Generation Lost, "The greatest trick the Devil ever pulled, was convincing the world he doesn't exist", and that's exactly what Max Lord has done.
Runner-Ups: Daken, Lex Luthor, Deathstroke
Best Mini-Series of 2010 - Red Hood: The Lost Days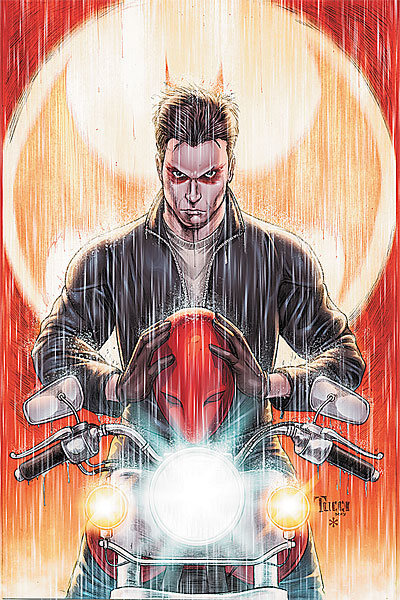 Say what you want, call me biased, but I honestly think this was the best Mini of the year. It had a set story, we already knew how it had to end, we knew how it started, but the middle was filled in. Over the course of six issues we saw Jason mature, grow, and go through a ton of emotions. We saw a ton of character development, not just from Jason, but from Talia Al Ghul as well. We saw the heartbreak in Jason upon finding that Bruce hadn't killed Joker, finding out he'd been replaced as a Robin, and we also got confirmation of why he does what he does. In a time where Jason has recently been shown as a cold-hearted, red headed villain, we saw Jason Todd, the Black-haired, cocky yet funny anti-hero. We also go to see Talia and Jason's relationship evolve and even give more ammo to my "Jason is Damian's father" theory that I've been mentioning for the last year. Red Hood: Lost Days showed a lot of people a different side of Jason Todd, and hopefully stopped the plans of making him "Dick Grayson's Joker." Plus, it's a very well written story of course.
Runner-Ups: Superman: Secret Origin, Batman: Widening Gyre
Worst Mini-Series of 2010 - Time Master's: Vanishing Point
Best believe If I'd read more than two issues of that UNBEARABLE Return of Bruce Wayne than that would win, but I didn't. I would give it to Brightest Day but I'd say a comic with 27 issues is far from a Mini-Series. And Rise and Fall of Arsenal and Shadowland both ended very crappy but I liked some of the issues too much to trash the whole mini. What does win is Time Master's Vanishing Point. Why, you ask? Well shut up, I'm about to tell you. I was so happy when I heard of Vanishing Point. Hal Jordan and Superman are gonna team with Booster Gold to look for Batman. That just sounds awesome, right? Sadly, this series was not living up to the hype. You'd think this would be a chance to elevate Booster, instead he's the butt of constant jokes by Hal Jordan. "Maybe you should wait until the camera crews show up to help, Booster!" I would've told Hal to shut the hell up considering he went crazy and killed thousands of people and Lanterns, but hey, that's just me. Also, it's STILL GOING. Why the hell is a comic where the three main characters are looking for Bruce Wayne still going when he's already been back for almost three months? When did Superman, Green Lantern, Booster and Rip Hunter become so incompetent? The series was so lackluster and dumb (It included another woman named Starfire but not the one from the Teen Titans and a caveman with a weird arm named Claw) that I dropped it before it ended, even though it's only six issues. So that's my reasoning for giving Time Masters: Vanishing Point the worst Mini of 2010, by a technicality.
Runner-Ups: The Rise and Fall of Arsenal, Shadowland, Return of Bruce Wayne (lucky)
Best Ongoing Series of 2010 - Batgirl
Batgirl is the most consistently good comic of the year. I don't believe I've ever rated Batgirl lower than a 7/10 and that means a lot. Stephanie Brown's trials and tribulations this year have been amazing, and led to some memorable moments like her teaming up with Supergirl, her taking on tech-zombies, and we've seen her stand up to Bruce Wayne himself. (Not in her series, but gimme a break.) The point being that Batgirl will always give you two things, a great story, and a laugh or two. There's few series that will be able to make you connect with a character as well as Batgirl does. Batgirl is written great as well as her cast with everyone from Oracle to Detective Nick Gage to Steph's classmates. I wish I had more to say about Batgirl but all I can really say is it's one of the best series I've read in a long time, and if you aren't reading Batgirl you're missing out. Also, Batgirl is the first comic to actually make me enjoy some of Damian Wayne's exploits, so it's GOTTA be great.
Runner-Ups: Generation Lost, Birds of Prey, Amazing Spider-Man
Worst Ongoing Series of 2010 - Brightest Day
So man choices, so little time. Batman and Robin, Titans, Gotham City Sirens, all subpar comics. None of them are as bad as Brightest Day. The sad thing is, I liked some issues of Brightest Day. The issue where they find out their White Lantern missions, the Brightest Day Special issue where we saw everyone since they'd first come back, I even like Jackson Hyde. But it's been bad as well. The most interesting person to return was Max and he's not in the main comic. The Firestorm story has a ton of potential, yet in the latest issue they really decided to go the route of having them argue and "blow up the universe." Martian Manhunter's little dream about being a Green Lantern (why?!) and then subsequently killing the JLA was one of the worst things I've read all year. And let's not get me started on Batman being hyped as the White Lantern, wearing the ring for like two pages, then leaving, no questions asked. Brightest Day's inconsistencies are what make it one of the worst series out right now. That and the fact that Reverse Flash came back from the dead even though he apparently was never dead since he was already back by the end of Flash: Rebirth which came out BEFORE the last issue of Blackest Night. So... that said, congrats Brightest Day, you're the worse series of 2010.
Runner-Ups: Teen Titans, Batman, Justice League of America
Most Underused Character of 2010 (The Jason Todd Award) - Wally West
The Jason Todd award stands for the character that wasn't used to their full potential, that was ignored and could have easily been a big part of the year. That award goes to Wally West. For over twenty years Wally West has been The Flash, yet after Barry Allen's return which not only garnered a Mini-Series but an ongoing comic as well, Wally West has been super demoted. He hasn't even been added to the current lame JLA incarnation. Wally has pretty much fallen off the face of the earth, as well as his daughter who was the new Impulse for maybe two hours? Furthermore, upon Barry's return Wally even had to change his suit. Because the guy who's been gone for 20 years should get his suit back but the guy that's been saving the world in his absence should have to change, that makes a TON of sense, right? So a guy that just came back and became The Flash after Bart Allen's brief Flash Run in 2007 has already been demoted to secondary Flash in 2010. So, here's hoping Wally West is used in some capacity in 2011, all without ending up dead.
Runner-Ups: Bart Allen, Connor Hawke, Owen Mercer (Tons of potential, wasted)
Writer of the Year - Judd Winick
This was a busy year for Judd Winick. He's been writing Generation Lost, which would've won best ongoing if it weren't for Batgirl being so good. He's also been writing Power Girl, which has been consistently good as well, plus he wrote the winner of Best Mini-Series, Red Hood: Lost Days. All while seeing one of his creations, Batman: Under The Red Hood, come to life in an animated movie. Not too many writers can connect to a character and make them one of their own. Gail Simone did this with the Birds of Prey, Bryan Q. Miller seems to have done it with Batgirl, Dan Way has done ith with Deadpool, Daken and Wolverine, and Judd Winick has done it with Jason Todd, although he seems to want to add Booster Gold, Power Girl and the rest of the JLI to the list. This year Judd has proved that he's one of the best writers out there, and if you don't believe me go read one of the many comics he's written. In a category with a hell of a lot of competition, the former Real World cast-mate has really stood out above the rest, making 2010 his year. Here's hoping he does the same in 2011, hopefully with a Jason Todd ongoing series.
Runner-Ups: Bryan Q. Miller, Daniel Way, Gail Simone
Character to Watch in 2011 - Booster Gold
I think 2011 is going to be Booster Gold's year. With a impending confrontation between Booster and Maxwell Lord coming up, I can only imagine how that will turn out. I see 2011 as the year Booster becomes one of The Greatest Heroes you HAVE heard of. Tie that in with his upcoming appearance on the Final season of Smallville and I think this may be one of the best years Booster Gold has. Here's hoping the Golden One continues to evolve into a great character. Booster's slowly evolved over the years from a comedy character to a guy with a great head on his shoulders, a hell of a leader and one of the most interesting characters around when he's written properly. Also, I needed to give Booster an award and I don't think anyone's more deserving of this than the current leader of the JLI, I mean the guy was in like four comics this year alone.
Runner-Ups: Daken, Jackson Hyde, Jason Todd ;-)
Most Kick-Ass Character of the Year - Wolverine? Well Maybe not...
When it comes to kicking ass, this was a year that had guys two Batmen, Two Captain America's, a plethora of Hulk's, and Daken, Wolverine and Romulus, who combines have more claws than a bunch of mean highschool girls. But I gotta, and I mean GOTTA give the Kick-Ass award to Wolver-
"Hold up... Now I'mma let you finish... well actually I'm not. Because that award belongs to me baby! No one kicked more ass in 2010 than the Merc with a Mouth, I mean, have you seen my shoe bill? I haven't been able to find one of my boots since I broke it off in one of Doc Bong's henchman's butts. I have to get my shoes tied by a freaking proctologist! So I'll accept this award for 'Wolvereen' on behalf of myself, you know how us Weapon X guys are, one big happy family! As for my victory speech, I'd like to thank myself, also I'd like to thank Deadpool, that one guy from Deadpool Corps that's the leader, That one guy Wade Wilson, and Bea Arthur, the hottest angel in heaven! So, if you'll excuse me chief, I've got a date with this award, some tacos, and a Taiwanese call-girl!"
Um.... well alright then. Most Kick-Ass Character of the year... Deadpool?
Well that's it for the first annual Red Hood awards everyone. Thanks for reading, feel free to agree or disagree in the comment section as well as suggest anything you'd like to see change or return for next year's edition of the Red Hood awards. Thanks for reading and thanks for helping Jason Todd's Comic Spot make it a full year. You guys are the greatest, and Happy New Year to you all. Until next time, I'm your friendly neighborhood Blogger-Man, Jason Todd.